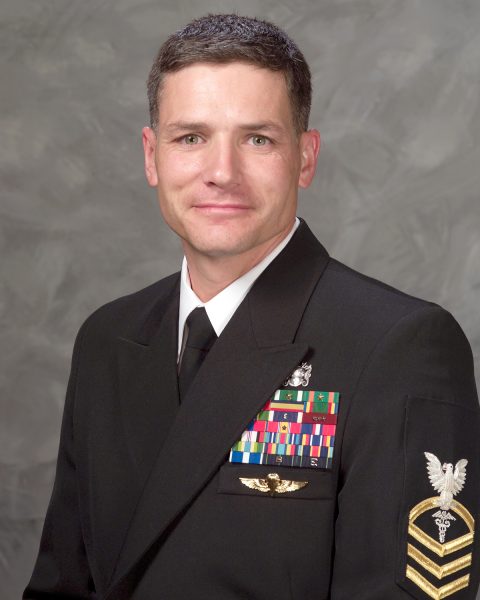 HMC (DSW/SW/FPJ)
Michael Rodrigues
Gov. Thomas Johnson NJROTC
1501 North Market Street
Frederick, MD 21701
Email: [email protected]
Classroom: Room 1443
Phone: 240-236-8326
Chief Michael Rodrigues, USN (Retired)
Naval Science Instructor
A native of Albuquerque, New Mexico, Chief Rodrigues entered the Marine Corps Reserves after graduating from Eldorado High School in June 1987. A field radio operator with the 4th Recon Batallion, Company D, Chief Rodrigues was influenced by the Navy provided Hospital Corpsman in the unit to pursue an active duty career in the U.S. Navy.
Following recruit training and completion of Hospital Corpsman "A" school in San Diego, he reported for duty at the Naval Hospital in Millington, Tennessee. Subsequent assignments included the Balboa Naval Hospital in San Diego, and the Millington Naval Air Station Reserves .
In June 1996, Chief Rodrigues was a diver candidate at the Consolidated Divers Unit in San Diego prior to attending the Deep Sea Diving Medical Technician course in Panama City, Florida. Following graduation, subsequent tours included the USS Emory S. Land (AS-39), Naval Special Warfare Development Group, the Annapolis Dive Locker and the U.S. Naval Academy.
Chief Rodrigues completed two deployments to Afghanistan with Naval Special Warfare Group Two and was The Annapolis area Sailor of the Year in 2006.
Military Awards include two Joint Service Commendation Medals, three Navy Marine Corps Commendation Medals, two Navy and Marine Corps Achievement Medals, the Combat Action Ribbon, two Presidential Unit Citations, as well as numerous unit, campaign and service awards. He is qualified to wear the Deep Sea Diving Medical Technician, Enlisted Surface Warfare, and Naval Freefall Parachutist Designators.
Education:
Masters of Science in Education – Fort Hayes State University
Graduate certificate in Instructional Systems Development – University of Maryland, Baltimore County.
Bachelors of Science in Workforce Education & Development – Southern Illinois University
Associates of Applied Science (Diving) – Thomas Edison State College
Navy schools include the Deep Sea diving medical technician, static line parachutist/jump master, free-fall parachutist, journeyman Instructor and Recruit Division Commander courses.