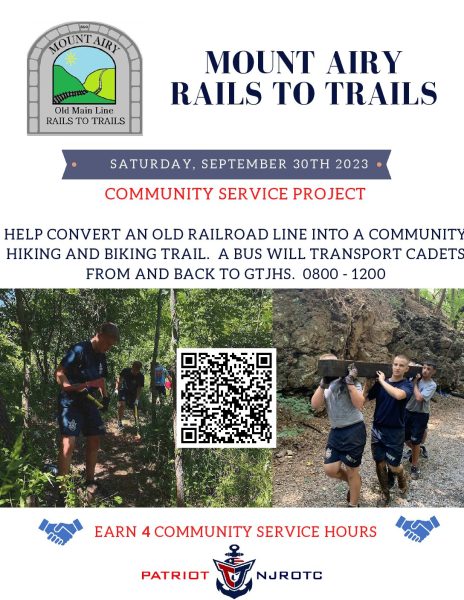 News
September 8, 2023

Navy JROTC Provides Life-Skills and Self-Confidence—for Any Career That's right!
NJROTC is a professional program for high school students, no matter what their career paths. It builds character, develops leadership skills, promotes patriotism and encourages responsibility and honor … all essential to becoming good citizens.
Participate in Navy JROTC with No Military Obligation
Through NJROTC, cadets learn to work cooperatively, think logically and communicate effectively. The classes, activities, uniforms and teams are all tools to teach pride and respect, and help cadets understand the value of education, physical fitness and healthy living. Of course for those who are interested in a military career, NJROTC puts students ahead of the game.

Students
JROTC Prepares You for Success!
Rifle & Drill Teams
Climbing, Rappelling, Ziplining & COPE Courses
Land Navigation
Academic Classwork
Maritime Studies
Trips & Camps
Marksmanship
Fitness Challenges & Wilderness Events
Volunteer Opportunities
First Aid & CPR

Parents
JROTC Helps Your Young Adult Navigate Life!
Structure & Discipline
Organizational Skills
Fitness
Self-Confidence & Professionalism
Personal Responsibility
Teamwork
Problem-Solving Skills
Citizenship
Financial Planning

College & Scholarship Opportunities
JROTC Is a Stepping Stone to Higher Education
Academic Preparation
A Path to Scholarship
Adds Credentials to a Résumé
Leadership Education
Professional Role Models
Credentials for College Application
A Military Foundation for Commission Assistance
Applying for College Help
Applying for Tuition Assistance
Accelerated Enlistment Advancement
Become a Patriot Leader!
JROTC cadets are boys and girls from all aspects of student life — scholars, athletes, musicians, student government, and honor society — who still enjoy regular high school activities. Students from all Frederick County high schools can participate.
Open to ALL Frederick County High School Students Transportation Provided