August 19, 2016 / Newsletter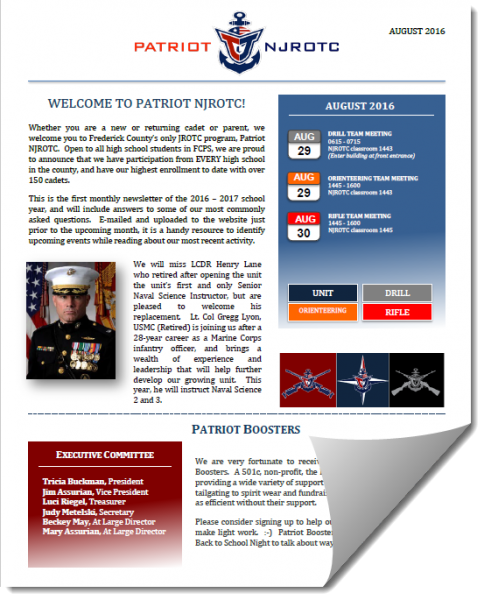 Attached is the August 2016 Patriot NJROTC newsletter.
Patriot NJROTC Newsletter Aug 2016
Each newsletter will share upcoming events in a calendar format while highlighting current news and team results.  If you have a suggestion for the newsletter, please don't hesitate to share it with us.
Monthly newsletters will be released the last week of the previous  month.  (September issue posted the last week of August)
————————————————————————————
Unfortunately, I missed a few main points for our out of semester and out of district cadets at our recent back-to-school night.  Please refer to our FAQ section to find answers to the most commonly asked questions about our program.  In short, regardless of your home school our what semester you are in a Naval Science course, we are a year round program, and cadets can participate in all teams and events year round.  This does pose a communication challenge, but we hope this website, newsletter and our social media platforms make it easier to follow and share the most up to date information.