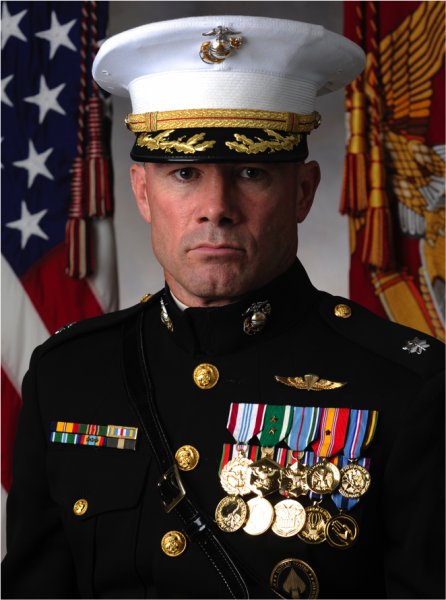 Lt. Col Gregg Lyon
Gov. Thomas Johnson NJROTC
1501 North Market Street
Frederick, MD 21701
Email: Gregg.Lyon@FCPS.org
Office: Room 1441
Phone: 240-236-8257
LtCol Gregg Lyon, USMC (Retired)
Senior Naval Science Instructor
LtCol Gregg Lyon joined the US Marines right out of High School in the Platoons Leaders Class program. Upon completing Officer Candidates School and Graduation in 1984 from Towson State University in Baltimore Maryland, he was commissioned a 2nd Lt in the USMC.
LtCol Lyon Graduated from the Basic School in 1985. He then attended the Infantry Officer's Course and was assigned as a Infantry Platoon Commander at 2nd Bn 1st Marines in Camp Pendleton California. During this time he served as a Rifle Platoon Commander, Weapons Platoon Commander and as a Company Executive Officer as well as the Chief Scout Swimmer in the Amphibious Raid Company. During this time he also deployed on 2 Western Pacific deployments and participated in one contingency Operation in Burma as well as Security Operations in the Philippines.
He also represented the US Marines in numerous Boxing matches including winning 5 Golden Gloves Championships, winning the Silver Medal in the All Marine Boxing Championships, as well as competing in the Pan American Trials at the US Olympic Training Center at Colorado Springs Co.
Lt. Col Lyon was then assigned to be an Instructor at Officer Candidates School in Quantico Va. During this time he evaluated Officer Candidates to ensure they were qualified to be Marine Officers.
His next Assignment was as a Rifle Company Commander in 2nd Bn 2nd Marines in Camp Lejeune NC. During this tour he was deployed to Okinawa conducting Jungle Warfare Training and Camp Fuji Japan for Mountain Cold Weather Training. Upon his return to the USA he was deployed to Haiti for a contingency Operation. In Haiti he led his Rifle Company in the take down of the Airport in Cap Haitian as well as 2 Helicopter Raids on 2 Haitian forts in Limbe and Grand Riviera Del Nord. He also led his Rifle Company in the quelling of a large violent Riot in the City of Cap Haitian.
Upon his return to the US he was assigned to instructor Duty as the Marine Officer Instructor at Old Dominion University, Hampton University and Norfolk State University for 3 years. During his time he earned his Master's Degree in Education.
His next Assignment was to Marine Corps Security Forces Training Company in Chesapeake Va. During this time he trained Marines to protect Marine posts worldwide as well as the Fleet Anti-Terrorist Security Teams (FAST), and the Marine Guards at Nuclear facilities as well as Camp David. During this tour he graduated from the Close Combat Instructor's Course, as well as the Close Quarters Battle Course.
Next he was assigned to US Special Operations Command. During this time we were attacked on 9/11 and he was deployed on Sept 28th. This included Yemen, Djibouti, Afghanistan, Jordan, and South Africa. During his early days at Special Operations Command he was severely injured in a Parachute Jump and was paralyzed from the neck down. After 3 months of physical therapy he was able to regain his movement after a miraculous recovery.
His next assignment was to Quantico VA where he was assigned to Ground Training Branch where he was in charge of all Ground Training for the USMC. During this time he volunteered and was chosen for 2 deployments to Afghanistan and 3 deployments to Iraq during some of the periods of heavy combat including Fallujah, Ramadi. He was then transferred to the Security Cooperation Education Training Center (SCETC) where he trained Marines to be Advisors in Iraq and Afghanistan. During this tour he earned his Black Belt in the Marine Corps Martial Arts Program.
In 2007 he was chosen to be the Marine Attaché in London UK as well as the Liaison Officer between Joint Special Ops Command(JSOC) and the British Special Forces. Shortly after this 3 year posting he returned to the US and retired after 28 years of service to our Country.
After his retirement he Trained Marines prior to deployments and then did 3 more deployments to Afghanistan as a contractor.
LtCol Lyon is married with 2 daughters and lives on his Family Farm in Pennsylvania.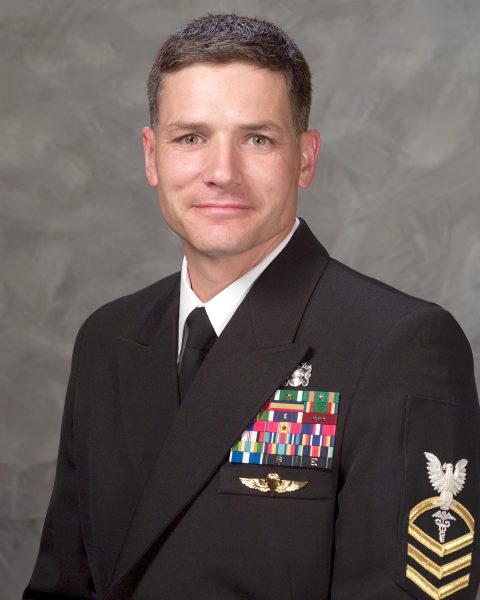 HMC (DSW/SW/FPJ)
Michael Rodrigues
Gov. Thomas Johnson NJROTC
1501 North Market Street
Frederick, MD 21701
Email: Michael.Rodrigues@FCPS.org
Office: Room 1441
Phone: 240-236-8257
Chief Michael Rodrigues, USN (Retired)
Naval Science Instructor
A native of Albuquerque, New Mexico, Chief Rodrigues entered the Marine Corps Reserves after graduating from Eldorado High School in June 1987. A field radio operator with the 4th Recon Batallion, Company D, Chief Rodrigues was influenced by the Navy provided Hospital Corpsman in the unit to pursue an active duty career in the U.S. Navy.
Following recruit training and completion of Hospital Corpsman "A" school in San Diego, he reported for duty at the Naval Hospital in Millington, Tennessee. Subsequent assignments included the Balboa Naval Hospital in San Diego, and the Millington Naval Air Station Reserves .
In June 1996, Chief Rodrigues was a diver candidate at the Consolidated Divers Unit in San Diego prior to attending the Deep Sea Diving Medical Technician course in Panama City, Florida. Following graduation, subsequent tours included the USS Emory S. Land (AS-39), Naval Special Warfare Development Group, the Annapolis Dive Locker and the U.S. Naval Academy.
Chief Rodrigues completed two deployments to Afghanistan with Naval Special Warfare Group Two and was The Annapolis area Sailor of the Year in 2006.
Military Awards include two Joint Service Commendation Medals, three Navy Marine Corps Commendation Medals, two Navy and Marine Corps Achievement Medals, the Combat Action Ribbon, two Presidential Unit Citations, as well as numerous unit, campaign and service awards. He is qualified to wear the Deep Sea Diving Medical Technician, Enlisted Surface Warfare, and Naval Freefall Parachutist Designators.
Education:
Graduate certificate in Instructional Systems Development – University of Maryland, Baltimore County.
Bachelors of Science in Workforce Education & Development – Southern Illinois University
Associates of Applied Science (Diving) – Thomas Edison State College
Navy schools include the Deep Sea diving medical technician, static line parachutist/jump master, free-fall parachutist, journeyman Instructor and Recruit Division Commander courses.