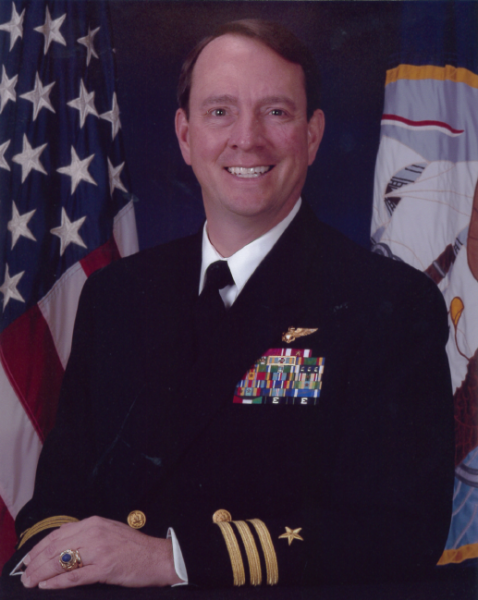 CDR Jeremy Gillespie
Gov. Thomas Johnson NJROTC
1501 North Market Street
Frederick, MD 21701
Email: Jeremy.Gillespie@FCPS.org
Office: Room 1441
Phone: 240-236-8257
CDR Jeremy Gillespie, USN (Retired)
Senior Naval Science Instructor
A native of Cincinnati, Ohio, Commander Gillespie entered the Navy at the U.S. Naval Academy in July 1979. Following commissioning as an Ensign in May 1983, he completed flight training in Pensacola, Florida, and Corpus Christi, Texas, receiving his wings in June 1985. A specialist in maritime patrol and anti-submarine warfare, his operational flying was in P-3B and P-3C Orion aircraft, in which accumulated over 2,500 hours as a Patrol Plane Commander, Mission Commander and Instructor Pilot.
Commander Gillespie's operational assignments included flying tours with the Blue Geese of VP-22 out of NAS Barbers Point, Hawaii, and the Tridents of VP-26 homeported at NAS Brunswick, Maine.  He also served as Flag Secretary on the staff of Commander, Carrier Group EIGHT, deploying to the Mediterranean and Red Seas on board USS Theodore Roosevelt (CVN 71), and to the Caribbean on board USS Wasp (LHD 1) as the J1 for Commander, Joint Task Force 120 during Operation Support Democracy, the embargo of Haiti.  Commander Gillespie's final operational tour was as the Safety Officer on board USS Harry S. Truman (CVN 75). Joining the carrier during her maiden deployment in April 2001, he saw the crew safely through the ship's inaugural Planned Incremental Availability, a compressed post-9/11 work-up cycle and second deployment, including combat operations in support of Operation Iraqi Freedom, with no shipboard loss of life, serious injuries or mishaps.
Commander Gillespie's shore assignments included duty as a Company Officer and Executive Assistant to the Commandant of Midshipmen at the U.S. Naval Academy, and as a Strategic Planner and Analyst on the staff of the Director, Air Warfare at the Pentagon. Additionally, he attended the Naval War College in Newport, Rhode Island, graduating with distinction and earning a Master of Arts degree in National Security and Strategic Studies. Commander Gillespie's final shore tour was at the Naval Historical Center in Washington, DC, where he served for two years as Director, Naval Warfare Division and Editor-in-Chief of Naval Aviation News magazine.  He was then asked to lead the newly-formed Navy Museums Division, overseeing the reorganization of the Navy's twelve, formerly independent, official museums as part of an integrated museum system.  Commander Gillespie retired after 28 years on active duty in August 2007.  He then accepted a civilian position with the Department of the Navy as a Program Manager in order to complete the establishment of the Navy Museum System.
In July 2009, Commander Gillespie was selected to serve as Senior Naval Science Instructor for the newly-established Naval Junior Reserve Officer Training Corps Unit at Loudoun County High School in Leesburg, Virginia—the first JROTC program in the history of Loudoun County.  During his eight-year tenure, he oversaw a steady expansion of the program, which was recognized by the Navy both for Unit Achievement (2016) as a Distinguished Unit (2015, 2017) as one of the top NJROTC programs in the country.  In August 2017, Commander Gillespie accepted the Senior Naval Science Instructor position for the NJROTC Unit at Governor Thomas Johnson High School in Frederick, Maryland.
Commander Gillespie's military awards include the Legion of Merit, two Meritorious Service Medals, five Navy Commendation Medals and various unit, service and campaign awards.  He currently resides in Walkersville, Maryland.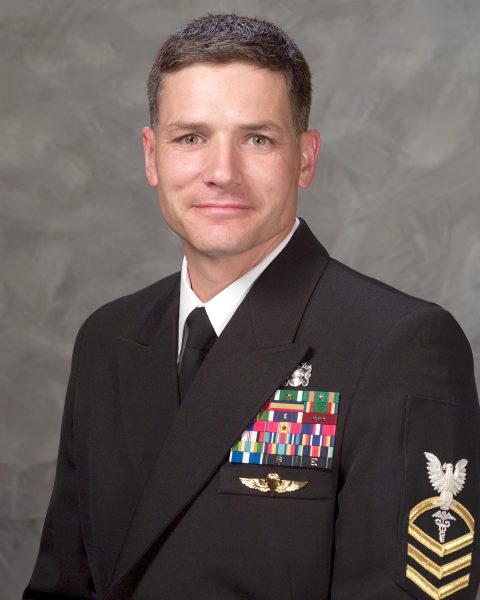 HMC (DSW/SW/FPJ)
Michael Rodrigues
Gov. Thomas Johnson NJROTC
1501 North Market Street
Frederick, MD 21701
Email: Michael.Rodrigues@FCPS.org
Office: Room 1441
Phone: 240-236-8257
Chief Michael Rodrigues, USN (Retired)
Naval Science Instructor
A native of Albuquerque, New Mexico, Chief Rodrigues entered the Marine Corps Reserves after graduating from Eldorado High School in June 1987. A field radio operator with the 4th Recon Batallion, Company D, Chief Rodrigues was influenced by the Navy provided Hospital Corpsman in the unit to pursue an active duty career in the U.S. Navy.
Following recruit training and completion of Hospital Corpsman "A" school in San Diego, he reported for duty at the Naval Hospital in Millington, Tennessee. Subsequent assignments included the Balboa Naval Hospital in San Diego, and the Millington Naval Air Station Reserves .
In June 1996, Chief Rodrigues was a diver candidate at the Consolidated Divers Unit in San Diego prior to attending the Deep Sea Diving Medical Technician course in Panama City, Florida. Following graduation, subsequent tours included the USS Emory S. Land (AS-39), Naval Special Warfare Development Group, the Annapolis Dive Locker and the U.S. Naval Academy.
Chief Rodrigues completed two deployments to Afghanistan with Naval Special Warfare Group Two and was The Annapolis area Sailor of the Year in 2006.
Military Awards include two Joint Service Commendation Medals, three Navy Marine Corps Commendation Medals, two Navy and Marine Corps Achievement Medals, the Combat Action Ribbon, two Presidential Unit Citations, as well as numerous unit, campaign and service awards. He is qualified to wear the Deep Sea Diving Medical Technician, Enlisted Surface Warfare, and Naval Freefall Parachutist Designators.
Education:
Graduate certificate in Instructional Systems Development – University of Maryland, Baltimore County.
Bachelors of Science in Workforce Education & Development – Southern Illinois University
Associates of Applied Science (Diving) – Thomas Edison State College
Navy schools include the Deep Sea diving medical technician, static line parachutist/jump master, free-fall parachutist, journeyman Instructor and Recruit Division Commander courses.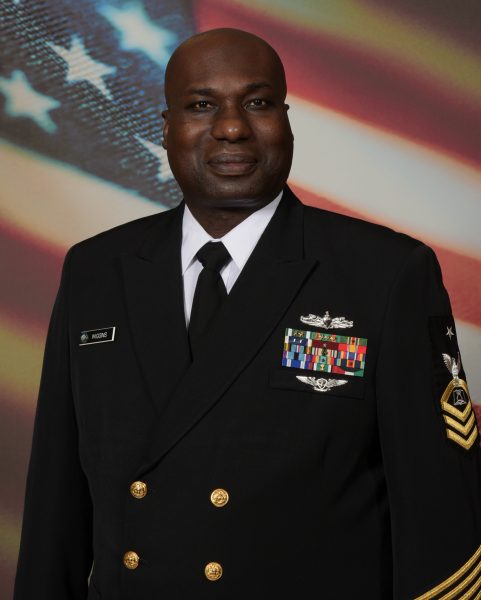 Culinary Specialist (SW/AW/IW)
Kelvin Wiggins
Gov. Thomas Johnson NJROTC
1501 North Market Street
Frederick, MD 21701
Email: kelvin.wiggins@fcps.org
Office: Room 1441
Phone: 240-236-8257
Senior Chief Kelvin DeClaudis Wiggins, USN (Retired)
Naval Science Instructor
A native of Mobile, Alabama, Senior Chief Wiggins entered the Navy after graduating High School in May 1991. A son of a Navy Steward and grandson of a Bosun Mate First Class, Senior Chief Wiggins followed in the footsteps of his grandfather and father. He started out as an undesignated Seaman/Fireman and was later given an opportunity to attend Mess Management Specialist "A" school in Feb of 1992.
Following recruit training and completion of Mess Management "A" school in San Diego, he reported for duty onboard USS LaSalle (5th Fleet Command Ship) where he served as a personal chef for Rear Admiral Taylor and Vice Admiral Douglas Katz for two years. During this time at 5th Fleet, the young Wiggins became 5th Fleet Command Blue Jacket of the Year in June of 1993 and was advanced to Petty Officer 3rd Class.
Subsequent assignments included duty at Naval Medical Center San Diego, barracks and galley duties,. USS Blue Ridge/COMSEVENTH FLEET, as well as personal Culinary Specialist for Vice Admiral Doran, Vice Admiral Natter and Admiral Greenert. Additionally, while on board USS Kitty Hawk/CARGRU5/Battle force Seventh Fleet, he served as the Flag mess LPO and Lead Culinary Specialist for Admiral Keating, Admiral Melvin Williams, and Admiral Kunkle. Petty Officer Third Class Wiggins was promoted twice while onboard Kitty Hawk first to the rank of E-5 and then E-6 while onboard the oldest forward deployed ship in the Navy homeported in Yokosuka, Japan. Senior Chief Wiggins served on every coast in the Navy and had the pleasure of being stationed all over the world, including the Middle East; Japan; Boston, MA; Norfolk, Virginia; Jacksonville, Florida; and San Diego, California.
Senior Chief Wiggins's career extended over 26 years in which he completed over 12 deployments, assignments on board 9 Naval ships and 5 different classes of ships with over 20 years at sea, and 2 shore duty assignments. Out of all the assignments Senior Chief Wiggins served, one that stands out is that he served for 3 years as the Supply Officer for the USS Constitution the oldest ship in the Navy and America's ship of State.
Military Awards include five Navy and Marine Corps Commendation Medals, five Navy and Marine Corps Achievement Medals, one Volunteer Service Medal, one Presidential Unit Citation as well as numerous unit, campaign and service awards. He is qualified to wear the Enlisted Surface Warfare Pin, Enlisted Aviation Warfare Pin and the Enlisted Information Dominance Designator.
Education:
Associates in Culinary Management from Florida State College of Jacksonville.
Associates in Supervision and Management from Coastline Community College.
Bachelors of Science in Business Administration Management from Columbia Southern University.
Navy Schools include Foodservice Administration, Drug and Alcohol Counselor, Command Managed Equal Opportunity, Department Head Course, and Journeyman Instructor Course.